Decoiler straightener feeder 3 in 1 machine work with ZANI Servo press---SUNRUI Press Feeding Line
The electronics industry requires precision and high-quality stamping of electronic components, such as connectors, micro switches, and sensors, among others. SUNRUI Machine designed a 9.0mm press feeding line in combination with the ZANI servo press, which can ensure high-precision stamping of electronic parts.
SUNRUI Press Feeding Line | Decoiler, Servo straightener feeder machine work with ZANI Servo press
The metalworking industry demands high-quality processing equipment that can improve productivity and efficiency, while delivering accurate and consistent results. SUNRUI Machine focuses on designing and manufacturing advanced press feeding equipment to meet the ever-evolving demands of the industry. Our latest offering is the SUNRUI Press Feeding Line, which combines a decoiler, servo straightener feeder machine, hydraulic shear machine, automatic oiling machine with the ZANI Servo press for optimal processing.
Our Press Feeding Line starts with the hydraulic expansion decoiler that is designed to handle metal coils up to 10,000kg and widths up to 1800mm. The straightening unit, on the other hand, ensures high-precision straightening by using seven straightening rolls. The servo feeder is driven by a Mitsubishi servo motor, and it can advance the material precisely into the ZANI Servo press.

Our 9.0mm press feeding line is controlled and monitored through an integrated computer system, which includes an HMI touch screen interface for easy operation and programming. The computer system ensures that the line can run smoothly and precisely, detecting and correcting errors in real-time.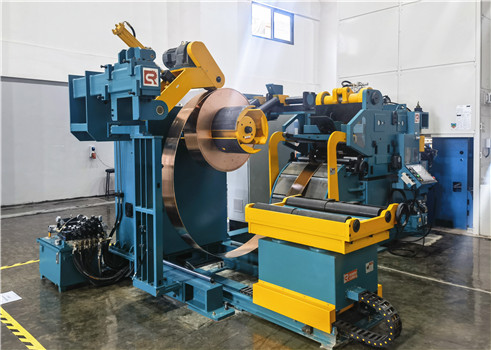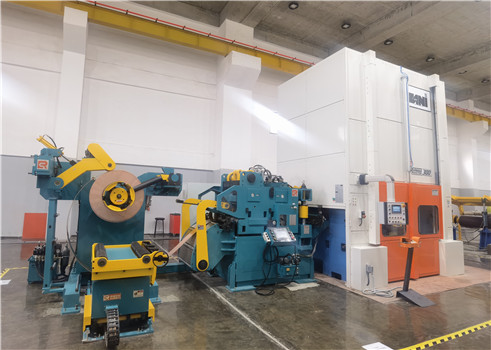 The ZANI Servo Press is used to deliver high precision stamping, which is the most critical process for metalworking parts production. It is designed with a robust and stable frame structure, which is optimized for stamping accuracy, stability, and speed. It also has intelligent control features like an automatic tonnage adjustment system, which can adjust and control the output force automatically.
Furthermore, SUNRUI Press Feeding Line is an all-in-one solution with an ergonomic design. The line is intelligent enough to have automatic adjustments that help ensure accuracy and repeatability in critical production processes. The touch screen interface is user-friendly and displays vital information such as material feeding speed, output speed, punching times, and many more parameters.
In conclusion, SUNRUI Press Feeding Line is designed to help metalworking manufacturers improve their efficiency, productivity, and precision. Its advanced features such as the ZANI Servo press, the Mitsubishi servo motor, an ergonomic design, and intelligent control system make it an ideal solution for high-quality processing. Contact us today to learn more about our press feeding line and see how it can help you streamline your production.
SUNRUI Press Feeding Line | Decoiler, Servo straightener feeder machine work with ZANI Servo press