Coil Feeding Line with Presicion leveler : An Efficient Solution for High precision stamping parts
SUNRUI MACHINE Coil Feeding Line with Presicion leveler MFL4-600GFD offers a customized solution for precision metal stamping and roll-forming operations in various industries. Its advanced technology, precise numerical control system, and automatic detection system ensure a streamlined and error-free production process, delivering superior quality products. Contact SUNRUI MACHINE today to learn more about how this impressive machine can improve your production operations.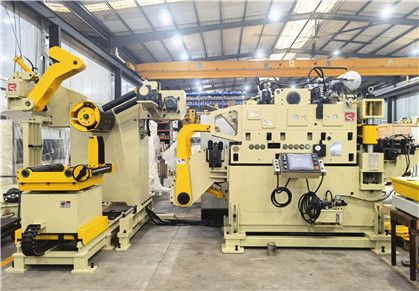 MODEL: MFL4-600GFD

Raw Material Type: High tension strength Hot-Rolled Metal steel, Cold-Rolled Metal steel ,Stainless Steel etc.
Coil Width: 70-600 mm
Material Thickness: 0.6-6.0 mm
Yield Strength: ≤630 N/mm2
Coil I.D : 475-520mm
Coil O.D : 1400mm
Max. loading weight: 5ton
Working Speed: 0-22m/min
An Efficient Coil Feeding Line with Presicion leveler Solution for High precision stamping parts
Coil Feeding Line with Presicion leveler MFL4-600GFD boasts a double straightening section that utilizes two sets of roller straighteners to precisely flatten and straighten sheet material. The first section of straightener roller has an adjustment range of 68mm (Up3/down3), while the second section has an adjustment range of 68mm (Up6/down5). This results in a high degree of flatness and reduced distortion during production.

Additionally, the machine's decoiler is equipped with a pneumatic brake system that maintains constant tension. This feature provides stable coil feeding and reduces material waste, ultimately improving production efficiency and cost-effectiveness.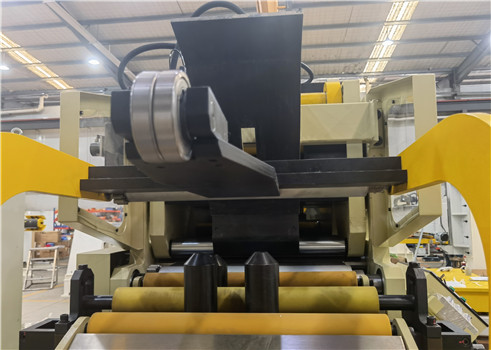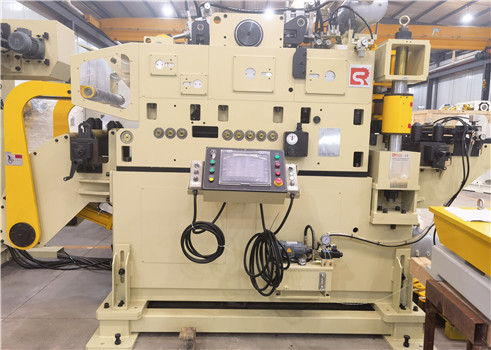 The feeding system is equipped with adjustable rollers that can feed metal sheets in variable thicknesses between 0.5 to 6.0 mm and widths up to 1500 mm. The machine's numerical control technology and automatic feeding system ensure that the production process runs smoothly and accurately.

The Metal Coil Feeding System is suitable for a wide range of industrial applications, such as automotive, construction, and electrical appliances. Its versatility, accuracy, and stability make it an ideal choice for both small-scale and large-scale production projects, providing consistent quality and cost-effectiveness.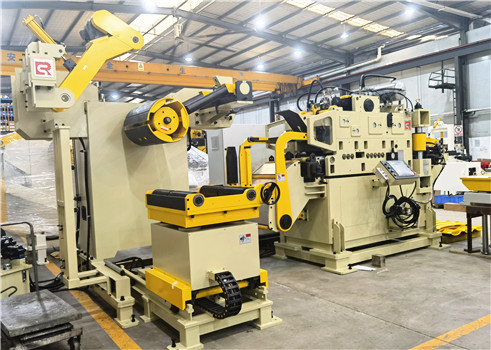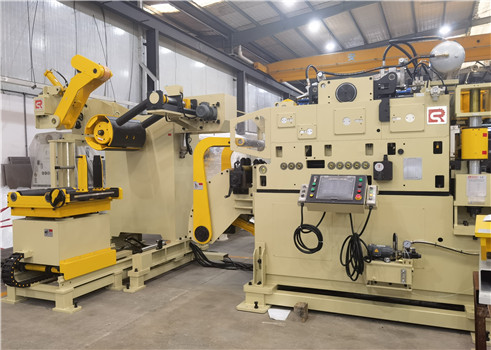 SUNRUI machine believe in delivering efficient, high-quality metal processing equipment that meets the needs of our customers. Our Metal Coil Feeding System with Double Straightening Sections is an excellent solution for heavy-duty industrial applications, providing the highest level of accuracy and stability. Contact us today to learn more about how this machine can improve the efficiency and quality of your metal processing operations. SUNRUI commitment to providing our customers with the best solutions is at the heart of everything we do. We understand that every customer has unique needs and challenges, and we work closely with each client to develop custom solutions that meet their specific requirements.

Our team of experts has years of experience in the stamping industry, and we use the latest technology and techniques to ensure the highest quality and efficiency in our services. We offer a wide range of stamping-related solutions, from design and prototyping to mass production and quality control, allowing us to meet the needs of clients from diverse industries and applications.

SUNRUI machine take pride in our ability to provide exceptional customer service and support. We are always available to answer your questions or address your concerns, and we strive to be responsive, reliable, and easy to work with at every stage of the project.

If you are looking for a partner that can help you optimize your production efficiency and profitability, look no further than SUNRUI. Contact us today to learn more about our services and to discuss how we can help you achieve your goals.