Compact Press Feeding System for High-Strength Steel For non-surface-sensitive automotive applications
Compact Press Feeding System with Coil Car, also known as the decoiler straightener feeder 3 in-1 machine is designed with the latest technology to ensure maximum ease of use and efficiency. The system has a compact design that takes up minimal space in your production area, yet it is able to handle complicated tasks with ease. The Coil Car feature ensures that your coils are always safely and securely handled during the feeding process.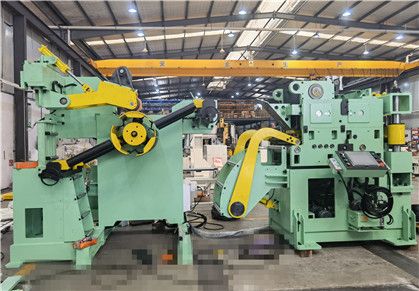 Basic Paremeters of Compact Press Feeding System MFL5-800GF
Raw Material Type: High Strength Steel
Coil Width: 70-800 mm
Material Thickness: 0.8-9.0 mm
Yield Strength: ≤630N/mm2
Coil I.D : 475-520mm
Coil O.D : 1500mm
Max. loading weight: 10ton
Working Speed: 0-22m/min
Compact Press Feeding System for High-Strength Steel For non-surface-sensitive automotive applications
A compact press feeding system also as well known as the decoiler straightener feeder 3 in-1 machine is an innovative and versatile solution designed to optimize production efficiency in the metalworking industry. The compact press feeding system consists of a decoiler, straightener, feeder, and coil car, allowing operators to handle different material types and increase productivity.

The combination design between the uncoiler part and the straightener feeder part ensures a compact structure and small footprint with a total length of 3.5-5.5 meters.
The hydraulic pressing arm cooperates with the disc brake device to ensure that the material is not dispersed during production, coil limiting arms for material fixing and supporting arm not only for material loading and unloading, but also helps the coil strip head rolling into the straightener feeder parts. The photoelectric sensor ensures scratch-free material.

The straightener feeder part is equipped with a folding arm to press the coil head and allows for smooth and quick conversion into a straightener feeder. High rigidity mechanical structure with eccentric rollers adjusted by an electric adjustment cooperates with the Mitsubishi servo control system enhances precision feeding. The 7-inch Mitsubishi touch screen display ensures a user-friendly experience.
The hydraulic shearing machine is a vital piece of equipment used to cut the heads and tails of coils which provides a stable surface for the machine's operation.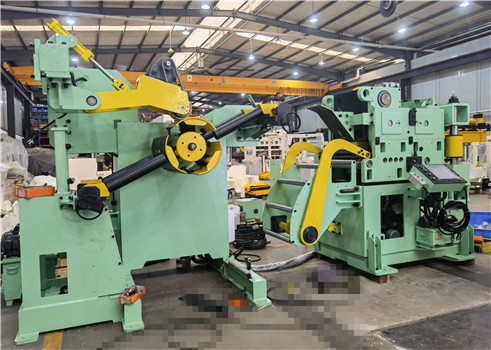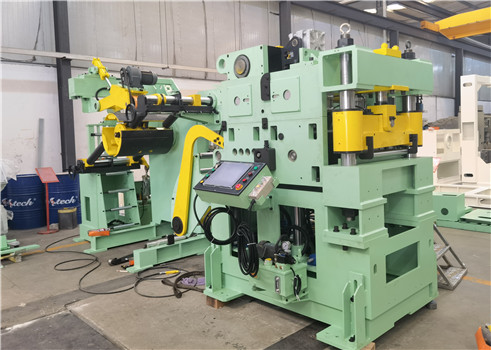 Advantages of Compact Press Systems
Space-saving:

The compact design of the press feeding system with coil upender allows for efficient use of production space, making it an ideal solution for operations with limited space.
Effective material handling:
The system is designed for efficient material handling, reducing material waste and improving material utilization.
Improved productivity:
The press feeding system with coil upender offers improved production efficiencies resulting in enhanced productivity and output.
How to Choose the Right Compact Press Feeding System ?
When selecting a compact press feeding system, consider the following factors:
Material Type:The type of material you intend to process should determine the system's specifications, including its configuration, thickness, width capacities, and feeder capabilities.




Coil Weight: The coil car module should have sufficient load capacities to lift the weight of the coil and ensure safe operations.




Automation:Automation features such as adjustable feeders, speed control, and remote control options to enhance the overall production efficiencies.
A compact press feeding system is an excellent investment to improve production efficiencies and optimize material handling. At SUNRUI-machine, we are committed to providing innovative, versatile solutions tailored to your specific needs. Our compact press feeding system is designed with high-quality components, ensures optimal performance, and increased productivity. If you want to learn more about this system, feel free to contact us for further assistance.