Combo uncoiler Straightener 2 in 1 machine GL-300F with pressure arm delivery to Poland
Combo uncoiler Straightener 2 in 1 machine is delivered to Poland, this type of coil reel straightener machine is very popular in European Market.
Combo Decoiler Straightener 2 in 1 machine is popular in European Market!
Decoiler straightener machine is in the short space design were designed to meet the needs of customers with limit space. It's smart and easy to move and install it.
Decoiler Straightener Assembly Together 2 in 1,It could effectively save the Installation space,reduce precision material transition segment in the process of straightening,then could maximize develop of the machine performance.
Decoiler and straightener have working capacity between 50 to 300 mm roll width, 0.3 mm to 3.2 mm thickness with loading 1500 kg coil sheet which is equipped with manual expansion.It has 7 pieces of straightening rollers,4 on the top and 3 at the bottom,the surface of the rollers have been treated thickened hard chrom and precise polishing,whose hardness can reach to HRC60°±2.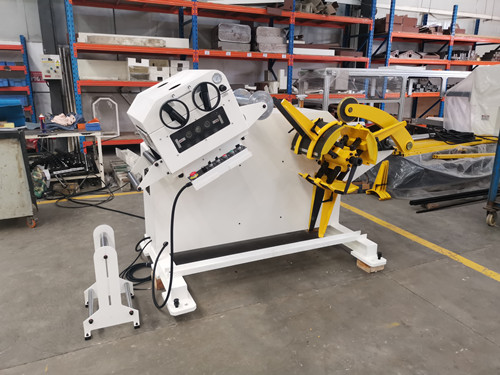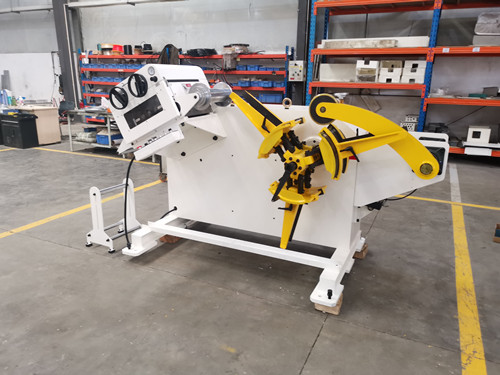 The motor control cabinet of the material Combined Decoiler Straightener are relatively independent,also they use their own frequency converter,that means it could take more effectively protecting the machine to make sure there will not distorted when it subjected to other external forces.

The drive system of the straightening machine are universal joint and gear transmission,that could effectively avoid the material's damage from passive wheel rotation.

The straightening wheel have dial indicator,it could found the leveling points quickly. It strengthen roll stiffness according with straightening back pressure wheel,then makthen make the straightening effect better.
The best selling combination, Combined Decoiler straightener Machine is most popular for the European and American countries because of their high quality, space saving and easily installation.Decoiler Straightener Machine integrated with decoiler and straightener, space saving design, widely used in metal stamping Press Feeding line.
With high precision working performance and convenient operating system, Decoiler Straightener 2 in 1 machine is the best choice for precise metal components/parts.
The service life of the machine will be longer with adding the lubrication system.OEM accepted,could change the rack load,correction parameters and also could according to the need to make power or unpowered pressure arm hydraulic expansion,etc.

Feature of Combo uncoiler Straightener 2 in 1 machine
1. Save workshop's space.
2. With pneumatic pressure on straightener roller and worm gear adjusting, it can achieve presicion straightening performance for many different kinds of material.3. Automatically adjust feeding time according to output speed. Leveler inclines appropriately to reduce feeding loop distance.4. Constructed with highly rigid structure and designed with a powerful motorized decoiler.5. Manual or hydraulic Decoiler Machine can be selected for inner diameter adjustment,There is wide selection to choose from depending on width and weight of coil.
6. Suitable for all kinds of metal sheet decoiling straightening, well compatible with other feeder for metal stamping line, roll forming line and shearing machine.
7. Pneumatic rod (cylinder) pressing and eccentric turbine worm adjusting way used to guarantee high precision during coil sheet straightening.
8. With photoelectric sensor
9. With standard line speed 0-15m/min
10. Remote control handle
Basic Parameter for combo decoiler straightener
Model
GL-300F
Material strength
Yield strength is less than 245Mpa
Max. coil width
300mm
Coil thickness
0.3-3.2mm
Variable Feeding speed
0-16m/min
Max. Weight(kg)
1500kg
Coil I.D.(mm)
470-520
Coil O.D.(mm)
1200
Straightener roll(QTY and material)
3 top/4 down
down rollers have drive fuction GCr15
Straightener Capacity(Thickness*Width)
1.8mm*300mm;2.3mm*200mm;
2.8mm*160mm; 3.2mm*80mm
Pinch roll(QTY)
Inlet:2/outlet:2
Main motor
1.5kw
Pressuare way
Pneumatic cylinder
Expansion way
Manual
frequency converter
with
Pressure Arm
with
Drive way
Double chain drive
Straightening adjustment way
Worm And Gear