Decoiler Straightener 2 in 1 Machine with Pressure Arm for metalforming industry to UK
This hydraulic decoiler straightener 2 in 1 machine proived by SUNRUI machine is delivered to our UK customer, we are dedicated to providing our clients with the best possible coil processing equipment, This machine has helped numerous companies in the UK enhance their metal forming processes, and we take pride in knowing that we have played a part in their success. Our commitment to excellence ensures that our machines are built to last, with high-quality materials and superior workmanship. Our team of experts is always ready to assist our clients in choosing the right equipment for their metalworking needs and providing support and maintenance services whenever required. We strive to build long-lasting relationships with our clients, earning their trust through reliability, efficiency, and exceptional customer service.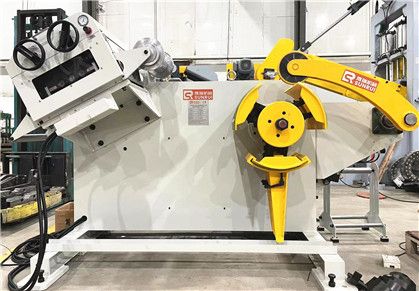 MODEL: GL-300F

Raw Material Type: Hot-Rolled Metal steel, Cold-Rolled Metal steel ,Stainless Steel etc.
Coil Width: 50-300 mm
Material Thickness: 0.3-3.5 mm
Yield Strength: ≤400N/mm2
Coil I.D : 475-520mm
Coil O.D : 1200mm
Max. loading weight: 3ton
Working Speed: 0-16m/min
Hydraulic expansion with pressure arm
Are you looking for a hydraulic decoiler straightener machine for your metal stamping needs?
The hydraulic decoiler straightener 2 in 1 machine with pressure arm is an industrial machine that combines two processes into one, ensuring high precision sheet metal processing. This machine is widely popular and in high demand in the European market and is exported globally to various countries. Recently, it was exported to the United Kingdom where it has helped to streamline the metalworking processes of many manufacturing companies.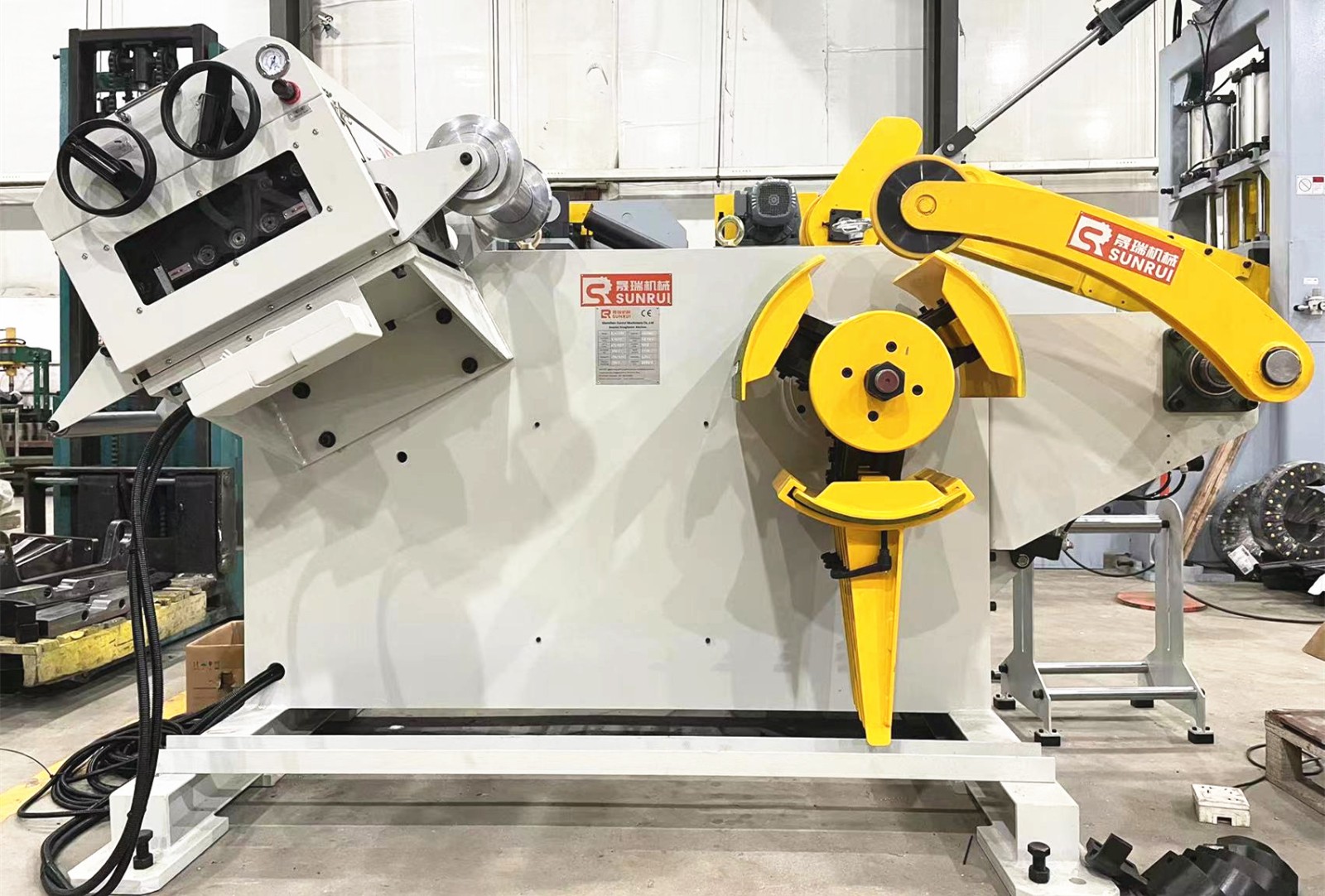 This comprehensive machine offers decoiling and straightening functionality, allowing the operator to save space and increase efficiency on the production line. It consists of a hydraulic decoiler machine, a straightener unit, and a pressure arm as part of its design. The decoiler system assists with unwinding heavy metal coils, which can weigh several tons, while the straightening unit flattens and straightens any coil material to high precision. The pressure arm complements the straightening unit, ensuring the sheet metal is fed smoothly and continuously into the production line.

The Hydraulic Decoiler Straightener 2 in 1 machine is designed for high-volume production lines, making it ideal for various applications, including automotive, aerospace, construction, and electrical. The machine can accommodate a range of coil widths and thicknesses, ensuring it is suitable for various metalworking requirements. Moreover, the machine's hydraulic drive system ensures a constant feed rate, which allows the materials to be processed smoothly and continuously.

The pressure arm on the machine is incredibly critical, as it plays a significant role in keeping the sheet metal's tension in check. It helps to prevent the material from loosening or wrinkling during processing, thus ensuring the finished product is of high quality.

The machine can also be equipped with additional features, such as laser gauging systems to measure material thickness, automatic lubrication systems, and sensors to detect coil diameter and positioning. The sophisticated controls on the machine allow it to adjust its processing speed and ensure that it maintains high levels of precision and accuracy.

In conclusion, the hydraulic decoiler straightener 2 in 1 machine with pressure arm is an innovative and highly efficient solution that is highly popular and favored in the European market. The machine's advanced technology, combined with its compact design, this machine has helped streamline the manufacturing process of most companies by reducing processing times and ensuring high-quality finished products. The hydraulic decoiler straightener 2 in 1 machine with pressure arm remains a highly coveted machine in various industries, and its popularity is set to grow.
Decoiler Straightener For metal stamping line