Double Head Decoiler Machine
The double head hydraulic decoiler is an option that customers can choose to replace the standard Single head decoiler. This enables customers to always have a spare steel coil loaded on the decoiler which drastically reduces the change over time of coils. This means a big reduction in down time between coil changes for increased production output.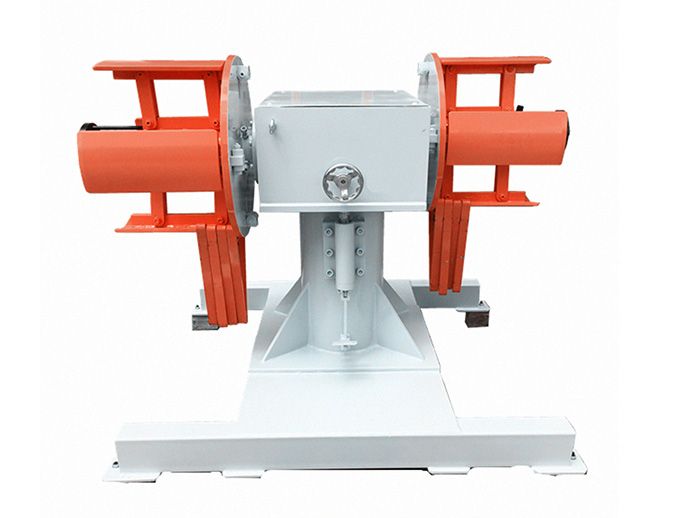 Applicable Material
Model No.: DBMT
Applications: Pressing Line/Metal Stamping Line/Forming Line
Applicable Coil Width: 20mm-300mm
Applicable Coil Thickness: 0.3-3.5mm
Coil Inner Diameter: 450-530mm
Coil Outer Diameter: 1200mm
Speed: 60m/min
Mandrel Expansion: Manual
Without Power
Application: Uncoiling the coils
Ideal for high speed lamination stamping line
The double head decoiler aiming to reduce the time to load a roll to the minimum point, this double head decoiler type drives one of the rolls, as the other one waits as a backup. When the driven roll is over, the backup roll will be ready to be connected to the driver within a very short period of time. When you connect the new roll to the driver, you will have a long time to load another spare roll.
Double head decoiler is an ideal solution for production plants where production speed and continuity are crucial in serial manufacturing. So usually configured with the S loop straightener, high speed gear machine and H frame high speed press machine, it's usually suitable for motor rotor and stator lamination stamping.
Usually, double head decoiler machine is equipped with the high speed press machine. This high speed coil feeding line combined double head decoiler, s-loop straightener, and cam feeder, speed can reach 60m per minute, design for motor and EI lamination stamping.
The configuration of high speed press line for Motor and EI lamination
Step-1: Double Head Decoiler machine, Loading coil and uncoilling coil.
Step-2: High speed S Loop Straightener machine, leveling the strips.
Step-3: High speed Cam Feeder machine, Feed coil to press machine.
Step-4: High speed press machine with the moulds, pressing to the end product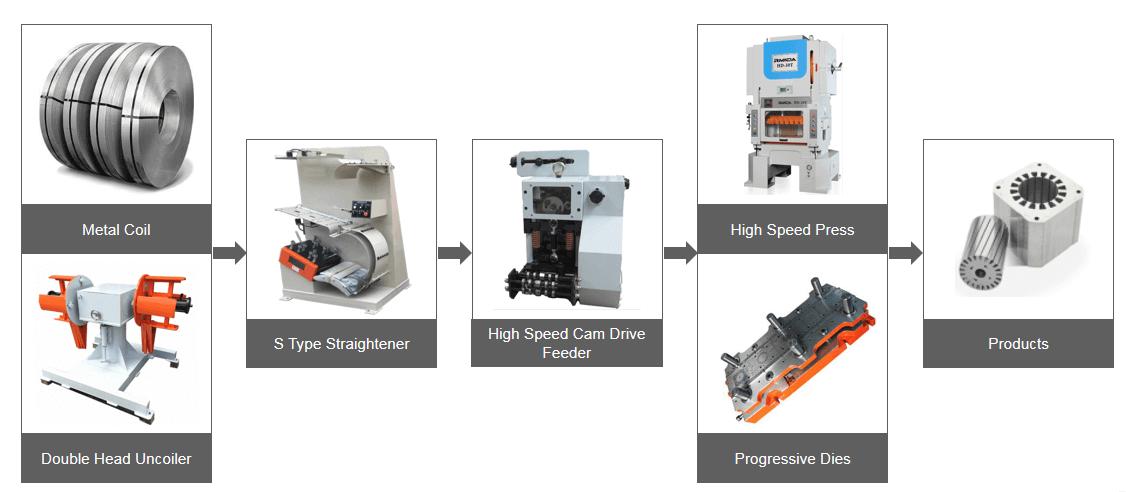 Model
DBMT-200
DBMT-300
Coil Width (mm)
~200
~300
Coil Thickness (mm)
0.1 - 1.6
Coil I.D. (mm)
450 - 530
Coil O.D. (mm)
1200
Loading Capacity (kgs)
500 + 500
1000 + 1000
Spindle Expansion
Manual
Pressing Arm
Optional
Power (HP)
Non-motorized
Inverter
Without